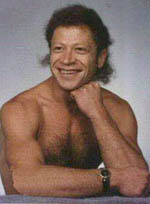 Sean G. Brown
Job Description: Guitars/Programming
Date of Birth: July 23rd, 1784
Residence: Antarctica
Hobbies: Jesus Christ... barf!
Favorite Food: I like to eat... jug jibes, molasses crinkles, black cherry cola and carrot cake.
Favorite Drink: Black cherry cola. On its own. The cheap whiskey comes after.
Favorite Movie: The Dark Crystal
Favorite Band: Sonic Youth
Favorite Album: "Black Seeds Of Vengeance" by Nile or "Awake" by Dream Theater
Influences: Nile, Dream Theater, Cryptopsy, Discordance Axis, Melvins, Death, Blind Guardian
Other Projects: Beer, Primitive Lungs
Something Awesome: Giant foetuses in suspended animation.
Something Shitty: Tripping on a turd sandwich in hell.